14-2 Carolina Panthers, best record in the league
The 2016 Regular season has ended and the Carolina Panthers came out of it with the best record in the league. 14 wins and only 2 losses have made the Panthers the second most valuable franchise in the league, the $1,092,140,000 are impressive considering the age of the franchise.
A ground-and-pound offense and a ferocious defense were the pillars of success for Carolina, who now will have the #1 seed in the NFC and home-advantage during the playoffs which comes in handy given that the Bank of America Stadium has been sold out for 5 consecutive games.
Lets do a quick review of the different facets of the team.
Passing offense
Panthers' aerial attack wasn't that impressive, ranked 27th in the league in both attempts and total yards. Most of the passes were short ones intended for TE Greg Olsen, who finished the season with 68 catches for 728 yards and 8 TDs. Both starting wide receivers Kelvin Benjamin and Devin Funchess were injured for part of the season but still managed to make important contributions, Benjamin with 685 Yards and 15 catches of 20+ yards and Funchess with 5 TDs on 55 catches.
The O-line was effective relatively effective protecting Cam, only allowing 28 sacks and 21 knockdowns. Center Ryan Kalil and RG Trai Turner were the stalwarts having a 0.9 and 0.3 respectively on sack percentage. Losing RT Nolan Schroeder to injury hurt the team a little bit as his backup Noah McConnell had a high 2.0 percentage on sacks and LT Michael Oher was no great shakes with a 1.6.
Cam Newton total stats were not impressive either. He threw for 3188 yards (2nd lowest in the league) and 22 TDs but on the same hand he only threw 7 INT that gave him a QB rating of 94.5, good for 6th best in the league.
Rushing offense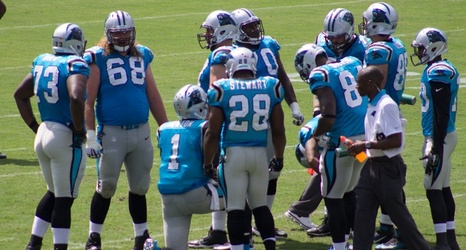 Jonathan Stewart ran 312 times for 1205 yards and a 3.86 avg. Charles Clay had 91 attempts for 354 yards on a 3.89 avg. Mike Tolbert with 34 rushes on a 3.32 avg. So how was the Panthers the league leader on rush attempts, yards and average per game? The answer is simple: Cam Newton.
The quarterback was simply amazing running the ball, collecting 978 yards (better than half the league's starting RBs) on a league leading average of 6.60. The opposing defense still don't know how to plan against him and Cam also makes the best of broken passing plays.
Most of the attempts were through the middle where the O-line is stronger with Turner, Kalil and Silatolu, having a league-leading 360 attempts for second best 5.29 avg. The team tried to avoid running through the right after Schroeder went down, good news is he's already healed for the playoffs.
Front seven
Carolina had the #1 defense in points allowed and yards per game, also numero uno against the run only allowing 1141 yards. Most of the success is thanks to terror twins DTs Kawann Short and Star Lotulelei. Backup Craig Coleman also had a great season which is impressive considering he is a 21 year old rookie but he's flanked by veterans Charles Johnson and Jared Allen, the former was especially outstanding against the run as team only had an average of 2.67 yards per rush on his side.
The nitro package of the aforementioned Coleman, Ryan Delaire and Kony Ealy was very successful collecting 6, 6, and 9 QB sacks respectively.
Defense captain MLB Luke Kuechly led the team in tackle percentage and his backup Norman Crawford was also impressive on the 3 games he had to start. Veteran Thomas Davis also went down with injury for several games but backup A.J Klein stepped up admirably and might have won a starting job on another team next year.
Defensive backs & special teams
Passing defense is where the team had problems last year and therefore used his first 2 round picks to get some help. First round pick Oscar Barnes and second rounder Robert Brunner made an immediate impact as the team ranked 9th in opposing QB rating and 11th on passes defended. Barnes led the team in passes defended percentage with a 84.3% and made a good safety tandem with Tre Boston who also collected an important 83.3% on passes defended.  Interesting enough is that MLB Luke Kuechly led the team in interceptions with 4 and defensive touchdowns with 2.
At cornerback there's still a little trouble as Josh Norman went to IR with a pulled calf and Bene' Benwikere and Nicolas Jones were average at best. The latter is suffering from a turf toe injury so the team had to sign fan favorite Captain Munnerlyn, who will also handle kick/punt return duties.
Graham Gano had some trouble on 40+ kicks and missed a couple extra points but the real downer was punter Brad Nortman who had one of the league worst punt net average at 36.1 yards after signing a millionaire 3 year deal.
The path through the National Conference is rough with the Packers and Vikings ranked as the best teams in the league according to power rankings; Dallas, Detroit, and San Francisco are no gimmes either. Good thing is the team will stay at Charlotte for the games and the bye week will help as several players will come back from injuries. As long as the players in the trenches stay healthy and play at their level the Panthers will have a chance in the tough NFC.